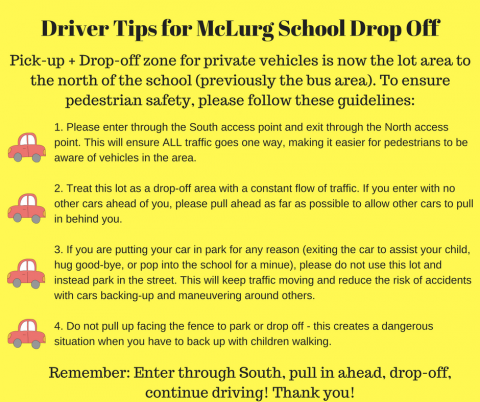 The 2017-18 school year has seen an increase in traffic activity at McLurg School. Due to the increase in traffic changes have been made to help keep our students safe. 
Pick-up and drop-off for bus students will be directly in front of the school. This area is marked by pylons.
Pick-up/drop-off zone for private vehicles is now the lot area to the north of the school. Vehicles can enter through the south access point and exit through the north access point. Please do not angle park in this area. We are able to create a safe and efficient area for private vehicles that are transporting students.
Parking is still available on the streets where indicated by the City of Regina. Please do not park in crosswalk areas or block driveways.
A short video on school zone safety has been produced by Regina Public Schools and the Regina Police Service.