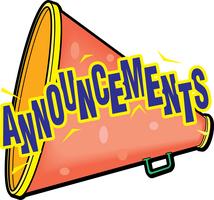 June 15, 2020
Dear Families,
As a very unique school year is winding down, there are a few dates and information that I would like to share with you.
From June 15th - June 25th teachers will be contacting families to have exit conversations. Your teacher will provide more information about these conversations in the coming days.
During the afternoon of June 23rd there will be an opportunity for new kindergarten families to pick up an information package. Packages can be picked up between 1:00pm - 3:30pm. 
On June 24th and June 25th progress reports and student belongings will be distributed to families. Further information will be provided by your child's teacher and will be available in the June newsletter.
June is also a month of change and unfortunately we are saying good-bye to Miss Muir and Mr. Moskal. On behalf of all at McLurg I would like to wish Miss Muir and Mr. Moskal good luck on their new adventures ahead and say thank you for all of their contributions to McLurg. 
I will also be leaving McLurg at the end of June and will be joining the staff at Arcola Community School as principal. I have had a fantastic 3 years at McLurg and will cherish the many memories that I have made. McLurg is an amazing school with amazing students, parents, and staff. I am very grateful to the community for the way you welcomed me to McLurg when I first arrived and the continued support that I received. I would like to welcome Dixie Nelson, currently the principal at Henry Braun School, to McLurg for the 2020-21 school year.
I would also like to extend a fond farewell to our Grade 8 students on behalf of everyone at McLurg. I hope you will always look back at your time at McLurg and remember all the wonderful experiences and friendships you have made. Good luck on all your adventures ahead.
Finally, a huge thank you to all the McLurg families for your support over the last few months. From all of us at McLurg I would like to express how once again, the McLurg School community has shown us how amazing you are. 
Dean Miezianko, Principal